Great Peanut Butter Cookies
Leslie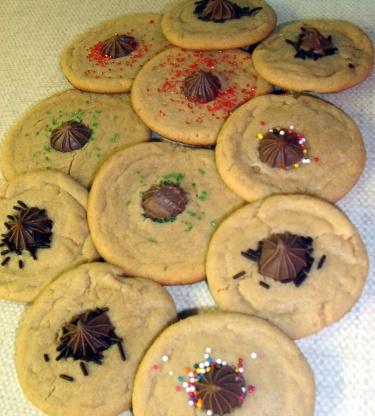 This is my mom's recipe which I have always loved. I have estimated times, like I have on most of my recipes, I haven't really ever timed myself...too many kids running around lol.

Top Review by Leslie
These are really good peanut butter cookies, and have a little more body than some other recipes, with the addition of the flour. Mine were done in about 5 minutes, so watch your oven closely!! These are going to go on my Christmas baking tray, so I added sprinkles and a chocolate star on top of each one. Thanks for posting!!
Preheat Oven to 375 degrees.
In Large Mixing Bowl Mix together eggs, both sugars, oil,& vanilla. Mix well.
Then Mix in your flour and peanut butter.
Roll out balls of dough and place on an ungreased cookie sheet.
Take a fork and make criss-crosses on the top of each cookie.
Bake until lightly brown. 8-10 minute depending on the size.