Parsley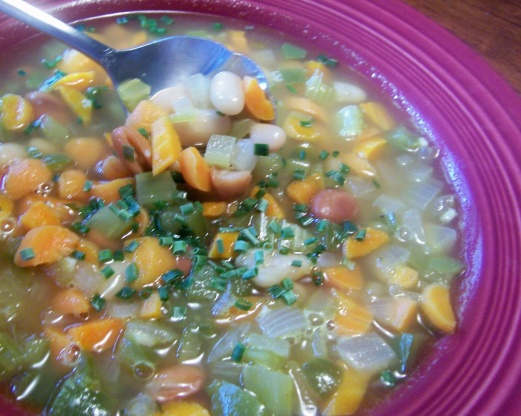 This is really good! It is a bit garlicky. Serve with good, crusty bread.

I love this soup! It's a really great change from the other soups that I've had. I used kidney beans and black beans and threw in some extra frozen vegetables as well as more cumin, soy and some extra herbs to give it a little boost. Thank you for a great recipe! I also agree with the other review that while it was nice without the lemon, the lemon juice REALLY makes this soup. Don't forget it!
Rinse and drain the beans.
In a saucepan, sauté the onions and other veggies in the oil until tender.
Add the beans, broth, orange juice, soy sauce and cumin.
Cover and simmer until everything is tender.
Add lemon juice and serve hot.
Sprinkle the tops of the bowls with chives.