Great Great Grandma's Fresh Peach Cobbler
Lvs2Cook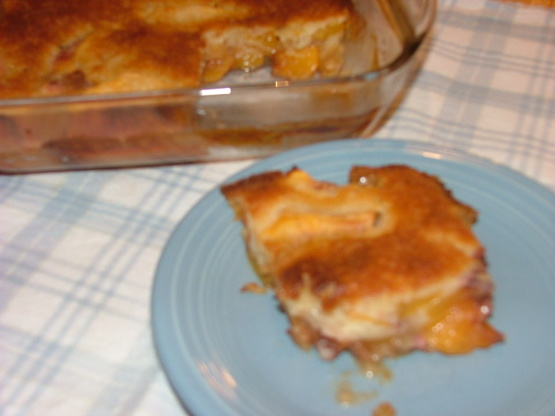 This recipe has been in my family for generations. The brown sugar and the juices from the fresh peaches caramelize as the batter on top bakes into a moist cake. This is wonderful served warm with heavy cream, whipped cream, or ice cream. **NOTE: The number of peaches needed will depend on their size. You want an even layer, covering the bottom of your baking dish. I have use anywhere from 4 large peaches to 6 small peaches. If you place your peaches into a pot of boiling water for about 30 - 40 seconds and then into cold water, the peels come off very easy. Another tip; before peeling (after the plunge into the boiling water), take your paring knife and starting from the stem end, slice around the peach ending were you started, then while holding each half, twist in opposite directions to release the pit (much like you would like an avocado). Then peel and slice. If you have really sweet peaches, you can adjust the brown sugar to 3/4 cup.
Dear JT's Mom, I don't know you but I love you for sharing this! I'm about to make it for the 2nd time! It's perfectly moist & delicious! I was afraid I'd mess it up,but there were NO complaints here,only smiles & lip-licking!!!! THANK YOU SOOOOO MUCH!!!! I also shared it on facebook!
Preheat oven to 350°F and butter a 9"X12" baking dish.
Peel and slice peaches and place in prepared dish.
Sprinkle the brown sugar evenly over the peaches.
Cream the butter (which should equal the size of your egg) with the white sugar.
Place your egg into a 1 cup measure and add enough milk to equal 1 cup.
Add the milk, egg, and vanilla to the creamed butter and sugar, stir to combine.
Add the dry ingredients and mix until blended.
Pour the batter over prepared peaches.
Bake for 1 hour @ 350°F.