CoffeeB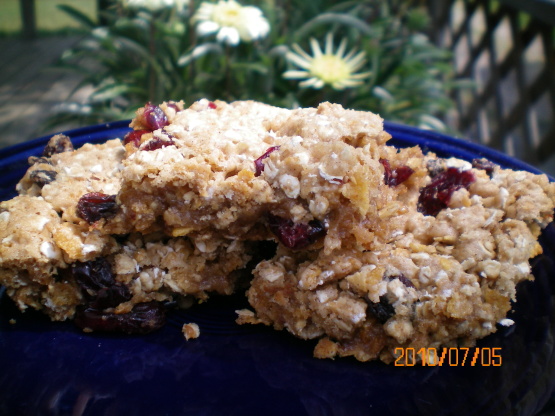 Easy to make and can be adjusted to use a variety of ingredients! Substitute Rice Krispies for the Cornflakes, use raisins instead of chocolate chips, use butter instead of oil, add peanut butter if you wish. Have fun!

A delicious and healthy bar that I made even more healthy by subbing the following: 1/4 cup olive oil for the canola. Upping the amount of honey by another 2 T.'s..and using 1/2 cup raisins and 1/2 cup craisins. I also used splenda in place of the regular sugar. I wish I would have added a bit of p.b. as I can never get enough of my protein being a vegetarian. Next time:-)
In large bowl, cream sugars and oil until fluffy.
Add honey, vanilla and egg. Mix well.
Blend in flour, cinnamon, baking soda and salt.
Stir in remaining ingredients.
Press firmly into bottom of a greased 9x13 pan and bake at 350 degrees for 20 to 25 minutes.