Ingy1171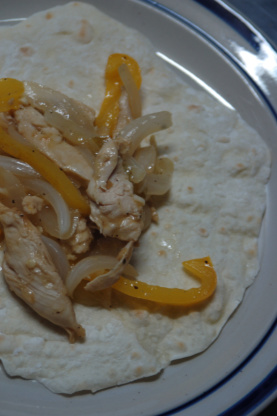 I LOVE Cooks Illustrated and I buy the magazine often. This is my favorite Chicken Fajita recipe. The only change I made was doubling the marinade so I can have extra juices for the chicken and veggies to soak in after they're cooked- it makes them even juicier! Hope you like it as much as I do. I also cheat by using a George Foreman Grill, where they suggest grilling it over charcoal.

Made these fajitas for Father's Day and EVERYONE loved them. I made the fajitas as written with no changes, except that I doubled the recipe. I have been looking for a great chicken fajita recipe for a long time and this one is it! Thank you for submitting!
In a medium bowl, whisk lime juice, 8 tbs of oil, garlic, worcestershire, brown sugar, jalapeño, cilantro, 2 tsp salt and 1 1/2 tsp pepper. Remove 1/2 c of marinade and set aside.
Add another tsp of salt to marinade. Add the whole chicken breasts in marinade, cover and refrigerate for 15 minutes.
Slice onions into onion rounds and red and yellow peppers into strips. Brush both sides of onion rounds and peppers with oil and season with salt and black pepper. Set aside.
Heat up grill. (I put a layer of plastic wrap on top and below the chicken breasts and pound them a little before cooking so they cook more evenly) Cook whole chicken breasts until cooked through. (when meat thermometer reads 175-It will continue to cook when off of heat) Remove and put on plate with a tent of foil to keep warm.
Grill vegetables until done and put in bowl.
Cut up chicken breasts into strips and add to bowl of vegetables. Add the reserved marinade and toss the chicken and veggies until nice and covered. Serve.