JustJanS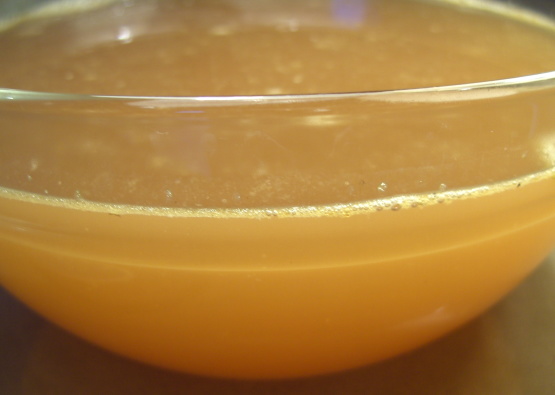 Turkey soup usually starts out with remnants of the holiday bird, resulting in a bland soup with little turkey flavor. Recipe from Cooks Illustrated. The Goal: A soup with rich turkey flavor that's made without an all-day simmer. The Solution: Make a classic stock with carrots, onions, celery, and garlic, and enhance the flavor with white wine, which deepens the turkey flavor. After just four hours the stock is fully flavored, ready for additions like noodles, potatoes, or rice, and of course, turkey. Try not to use a barren carcass for the stock. The soup tastes best made with a carcass that has a good amount of meat clinging to it.

Excellent stock thank you. I was a bit wary of the tow cups of wine, but went with it and agree-it just enhances the turkey flavour. I reduced the stock from 3 quarts back to two as I like a very rich stock and find it saves on freezer space too. I can't wait to cook up another turkey to make this again, Thanks for posting!
1. Bring turkey carcass, onion, carrot, celery, garlic, wine, bay leaf, and 4 1/2 quarts water to boil in 12-quart stockpot over medium-high heat, skimming fat or foam that rises to surface. Reduce heat to low and simmer, uncovered, 2 hours, continuing to skim surface as necessary. Add parsley and thyme; continue to simmer until stock is rich and flavorful, about 2 hours longer, continuing to skim surface as necessary.
2. Strain stock through large-mesh strainer into large bowl or container; remove meat from strained solids, shred into bite-sized pieces, and set aside; discard solids in strainer. Cool stock slightly, about 20 minutes; spoon fat from surface. Use stock in one of the related recipes or cool to room temperature, cover, and refrigerate up to 2 days.