Banriona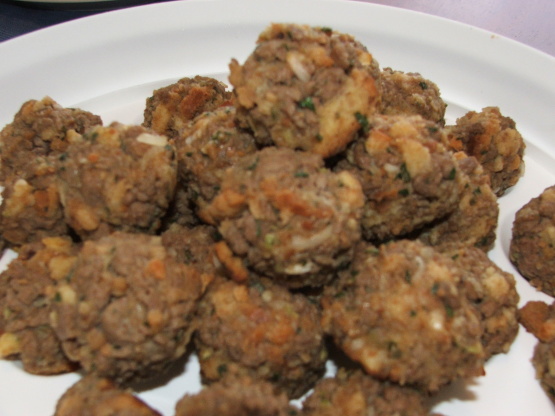 Prepare unbaked balls and freeze up to a month before you need them. Thaw in refrigerator when needed and bake as directed.

I wasn't sure what to expect with this recipe since ground turkey doesn't taste much like a roasted turkey breast, but it turned out very good! Brushing the turkey balls with butter before cooking really topped off the dish. I wish I had used more cranberry sauce, however, because that would have made this dish just like a turkey/dressing/cranberry sauce sandwich. Very good...and different! Thank you Banriona!
Preheat oven to 325°F Brown meat; drain. Combine cooked meat with stuffing mix in medium bowl.
Stir in Cranberry Sauce, egg and 1 Cup water. Shape mixture into 16 balls. Place balls on foil covered baking sheet. Brush balls with melted butter.
Bake 20 minutes.