Gravlax (marinated salmon)
Anke R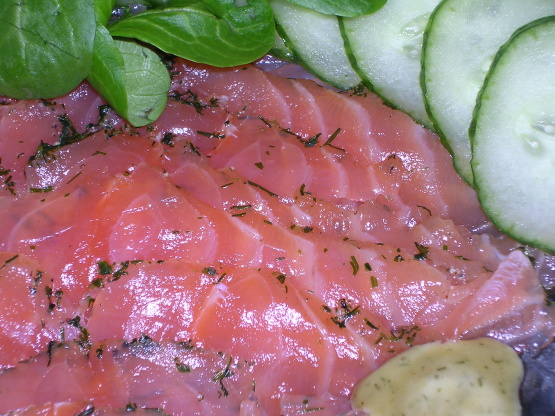 This is the traditional Swedish gravlax recipe. Nowadays lots of varieties have evolved, but this is the original. It is traditionally served with the mustard sauce ('Gravlaxsas') and lemon. I recommend a German or Californian dry or semi-dry white wine to this. Because of the simplicity of the recipe, the salmon has to be of the best quality and freshness available.
Top Review by Anke R
This is an excellent recipe. I had the same at home and when there was salmon on sale, I finally decided to try it. I was always wooried that it wouldn't turn out like the bought stuff and that I would waste aperfectly good salmon. Well the opposit was the case. It is very easy to do and with a sharp knife you will be able to slice it just as thin as if you bought it in a delicatessen. Besides it is much cheaper too. A good recipe for the holiday season, since it is impressive, but doesn't take up much of your time. I substituted the sugar in the sauce for honey, since it was closer to the taste I remember. After taking of the marinating spices I put some dill on top, so that a little remained on each slice. You can also serve it to small children, although you are risking to turn them into little gourmets ;)
For the salmon, remove all bones with a pair of tweezers, but leave the skin on.
Rinse.
Mash the dill stems in a mortar with a little of the salt.
Mix with the rest of the salt, the sugar and pepper.
Save the dill leaves for the sauce.
Cover the flesh side of the fillets with the mixture, and place the fillets flesh-to-flesh in a tray made of glass or stainless steel.
Cover with plastic foil and put a heavy weight on top (e. g. the mortar or a brick).
Keep refrigerated for 72 hours, turning the fillets every 12 hours.
Do not discard the liquid that forms.
Scrape off the spices and discard the liquid.
The salmon will keep refrigerated for about a week.
For the sauce, mix mustard, sugar and vinegar.
Add the oil a little at the time (as for mayonnaise), constantly stirring.
Just before serving, add lots of dill and salt and pepper to taste.
Slice the salmon with a sharp, flexible knife in big, thin slices parallell to the skin.
Arrange the ice-cold salmon on lettuce leaves with slices of lemon.
Serve the sauce separately.
Also serve toasted bread and butter.