Peter J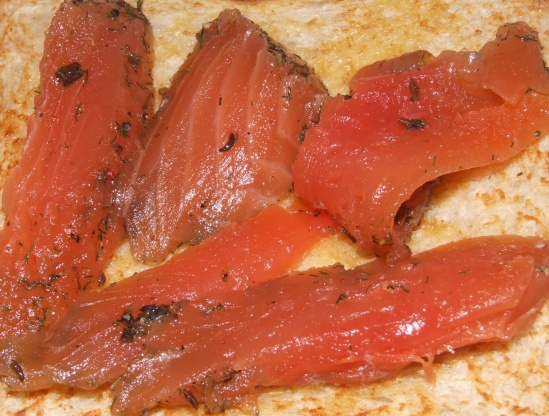 A standard on our holiday table, either Christmas Eve or New Year's Eve. You don't have to buy smoked salmon - you can make your own gravlax. This version is very delicious. Count on refrigerating the gravlax with the spices and dill for 3-4 days before serving. Of Scandinavian origin.

First time I've made Gravlax and loved this, so much nicer than store-bought! I used brandy and left for around 24 hours using the stated preparation method but then transferred to two vacuum sealed Food Saver bags and left another 3 days giving them the odd squeeze to move the brine around. That worked really well and saved removing the plastic wrap to baste each time.
Rinse the fillets in cold water and pat them dry with paper towels.
Crush the caraway seeds, aniseed, juniper berries, red pepper flakes, and black peppercorns using a mortar and pestle.
Or place the spices on a cutting board or other hard surface and crush them with the underside of a heavy skillet.
Combine with the salt, sugar, and dill.
Place one of the fillets skin side down in a deep ceramic dish just big enough to hold the fillets.
Rub the fillet with half the spice and dill mixture.
Rub the other fillet with the remaining mixture and place it skin side up on top of the first, creating a salmon'sandwich' with all the spices and dill in-between.
Pour the aquavit on top, cover the dish with plastic wrap, and place a heavy weight, such as two heavy plates or a saucepan, on top of the fish.
Refrigerate for 3 to 4 days, turning the fish every 12 hours and basting it with the brine that accumulates in the dish.
To serve, dust off some of the spices and slice the fish into thin slices, on the diagonal- the way they cut smoked salmon, with a sharp thin knife.
Serve with mustard sauce and dark rye bread, for open-faced sandwiches, or with mustard, pickles, and capers.