Gratin Onion Soup With Tomatoes
Tisme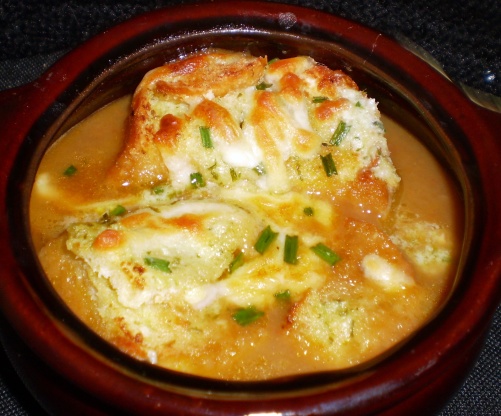 A recipe from Ricardo that I'll try this week.

Top Review by Tisme
Clear stars, so easy and so delicious.
I used my own homemeade stock, and this was just fantastic.
I did not have gruyere, but used cheddar and mozarella together.
So very good, with fantastic falvours.
This is a must recipe for onion soup lovers.
Thanks Boomette.
In a large saucepan, cook the onion slowly in butter until caramelized, about 15 minutes. Add salt and pepper. Deglaze with port wine. Add stock and tomatoes. Bring to boil and let simmer about 10 minutes. Add salt and pepper.
Put the oven rack in the middle of oven. Preheat to broil.
Put the soup in oven-proof bowls. Put slices of toasted bread on soup and sprinkle with cheese. Broil in oven until melted and golden.