Gratin of Yukon Gold Potatoes
ChefLee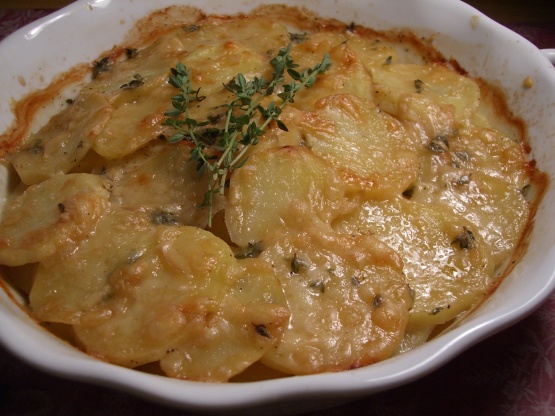 Years ago, one of the first meals I served my newlywed son and wife included this gratin. It's delicious without a lot of extra fat. There are some similar potato gratin recipes here, but none exactly the same. This is the one I know and love, the original, published by Martha Stewart in 1994.
Heat oven to 400 degrees. Butter a 9-inch round or oval baking dish.
Using a mandoline, slicer or a very sharp knife, slice potatoes 1/8" thick and combine gently but thoroughly with 1/3 cup of the Gruyere, the olive oil, thyme leaves, salt, and pepper in a mixing bowl.
Arrange potatoes in a neat, overlapping pattern in the baking dish. Pour chicken stock over potatoes and sprinkle remaining cheese over top.
Bake until potatoes are tender and the cheese and potatoes are starting to brown, about 45 minutes. Garnish with thyme sprigs as desired.