Gratin Dauphinois Aussie Style
Latchy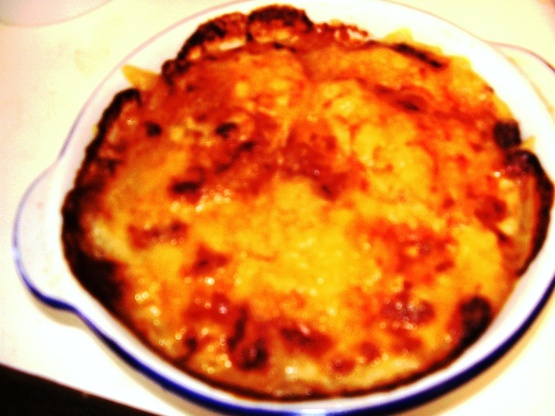 A simpler and less expensive version of Gratin Dauphinois but a rich filling vegetable dish. Or can be served with a salad for lunch. If you are a garlic lover more cloves of garlic can be used. Cheddar cheese can be used instead of Gruyere cheese. Just put your own flair to this dish.

This recipe was easy to prepare, the ingredients are things I usually have on hand and the taste was fabulous! I did use 2 cloves of garlic and a blend of cheddar, mozarella and parmesan cheeses, simply because that's what I had on hand. I would recommend this to any one who enjoys potatoes!
Peel potatoes and slice thinly.
Rub a shallow ovenproof dish with crushed garlic, then butter the dish generously.
Arrange potato slices in layers in the dish.
Scald milk and add nutmeg, salt and pepper to taste.
Pour over potatoes in dish.
Sprinkle with cheese and dot with remaining butter.
Bake in a moderate oven for 40 to 50 minutes until potatoes are tender and golden.
Serve in the dish.