Grated Beets With Sweet-Sour Mustard Dressing
Kathy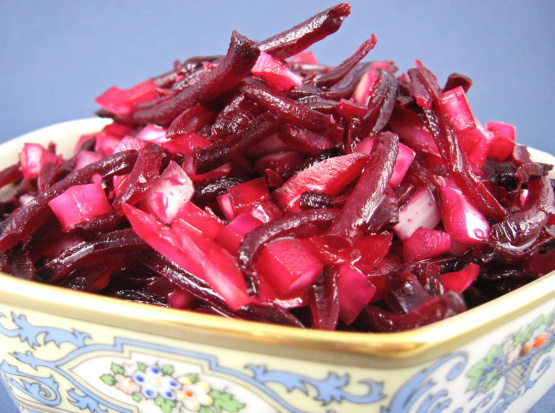 I believe this recipe originated with The Vegetarian Bistro: 250 authentic French regional recipes by Marlena Spieler. I found it on a vegetarian web site, so I don't know how much it resembles the original recipe. Beet Salad aka Grated Beets with Sweet-Sour Mustard Dressing or Betteraves rapées dijonnaises.
Heat oven to 350°F.
Trim beets, but do not peel. Place in baking dish and bake 1 hour or until tender. Cool beets, then rub off peels. Discard peels.
Grate the beets, mix with minced onion and set aside.
Whisk together the vinegar, sugar, and dijon mustard. Pour over beets.
Serve at room temperature or refrigerate and serve chilled.
Note: Prepare the day before so the flavors have time to blend.