Grasshopper Hot Chocolate
Annacia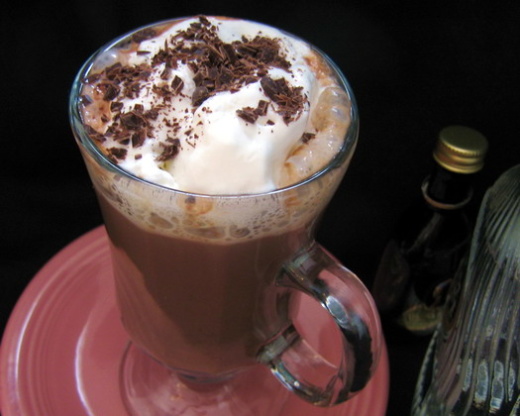 My two favorite flavors come together to create a special warm beverage to delight your taste buds -- Chocolate and Mint! From the January, 1992 edition of Gourmet Magazine.

I really wish that I could give this 10 stars. Without a doubt this in one of the very best hot chocolates I have ever had. Even with my needed diabetic trimming ( Splenda, fat free evap milk and skim milk) this was rich and creamy. It's so smooth with no booze bite and could be seduction helper in the right situation (whoohoo). Oh yes! I used Vermeer Dutch Chocolate Cream for the Creme de Cacao because that is what I had. Exquisite Bev, thank you so much.
In a heavy saucepan, combine the cocoa powder, sugar, water, vanilla, and a pinch of salt: heat the mixture over low heat, whisking, until the cocoa powder is dissolved and the mixture is a smooth paste.
Gradually add the half-and-half and the milk, (both scalded), and simmer hot chocolate, whisking, for 2 minutes.
Stir in the crème de menthe and the crème de cacao.
Note: (For a frothy result, in a blender blend the hot chocolate in batches.)
Divide the chocolate among mugs and top it with the whipped cream and the chocolate.