Thorsten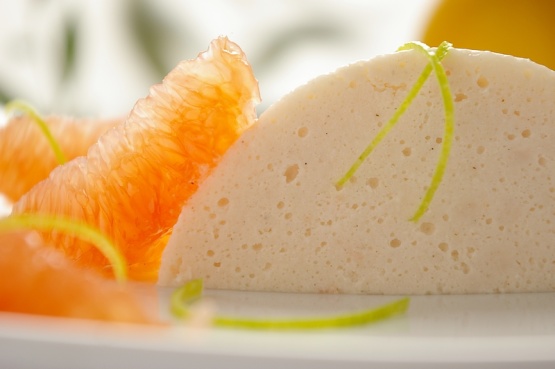 This is something a little different it is not very sweet but very refreshing. You would have to like grapefruit to enjoy this. The cooking time includes refrigeration time.

The texture of the mousse was very fluffy and it is so easy to make in advance. The only tricky step is to remove the mouse from the molds. I have put the molds a few seconds into hot water and then they came out easily. Important is step 11. Do not omit this step. Otherwise the egg white could separate from the gelatine while cooling. I have made the dessert one day in adavance. The taste was very light and not too sweet. The texture was great. I served the mousse at room temperature, so that all the flavours are there. I served it with some more grapefruit on the side. So I have used about 3 grapefruits. very nice and elegant dessert. Great for a festive dinner but also for a very light summerly treat.
Peel or cut the skin off one grapefruit so that there is none of the white inner skin on the fruit.
Then section the grapefruit and take the meat out of eat individual section, discard the membrane ( try to take out in one piece if possible), put on a small plate and set aside.
Soften the geletin in a bowl of cold water.
Wash the lime well under hot water.
With a zester try to zest long thin stips off the skin off the lime (or use a knife, to be used to decorate the dish).
Juice the lime and the second grapefuit into a medium bowl.
Add the quark and honey and mix well.
Whip the cream and vanilla sugar, fold into the cheese mixture.
Take the softened gelatin out of the water and put into a small pot with 3 tbsps water and heat until gelatin is desolved.
Pour the gelatin into the grapefruit cream mixture stir well.
Then refrigerate for 10-15 minute to slightly gelled.
In the meantime beat the egg whites to form stiff peaks.
Take the grapefruit cream out of the fridge and fold the egg white foam into the mixture.
Rinse 4 jelly molds or coffee cups with cold water.
Pour the mixture into jelly molds.
Put the molds into the fridge for 4 hours until set.
To serve, demold the mousse onto serving dishes and decorate with the set aside grapefruit and lime zest.
Enjoy.