BarbryT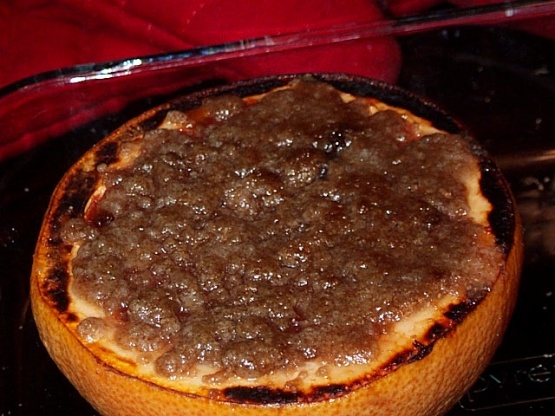 Grapefruit sure cleans up nice! Delightfully different.

Wow, what a mouth wake-up call! I [i]think[/i] I love it. Think. It's morning; I don't do mornings well. :-) The contrast between the warm crusty topping and the cold rummy grapefruit is astonishing but delicious. I suspect I had my oven rack too high and close to the broiler because it took only [u]one [/u]minute to bubble and brown nicely and as you can see from the photo, the rind was already blackened. I recommend adding "inches from the broiler" to the directions, if possible. Nonetheless...yum. I certainly will make it again. It definitely will impress company! It would make a terrific fruit dessert too.
Position a rack in the upper third of the oven.
Preheat the broiler to high.
Halve each grapefruit, then loosen the segments by cutting along the membranes with a paring or grapefruit knife.
Drizzle 2 teaspoons of rum evenly over each half.
In a small bowl, combine the butter, sugar, flour, allspice, and salt.
Using your fingertips, pinch the ingredients together until the mixture forms soft crumbs.
Sprinkle the crumbs evenly over the cut grapefruits.
Place grapefruits on a broiler pan, and broil until the crumbs are lightly browned, bubbling, and shiny, about 7 minutes.
Serve immediately or cooled slightly.