Grapefruit and Avocado Salad
BarbryT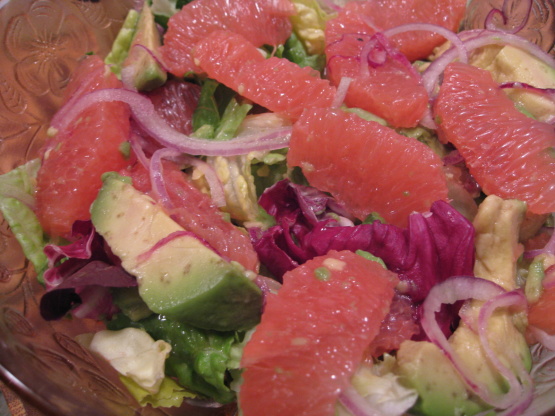 I saw this recipe on Barefoot Contessa (Ina Garten's show) I made just a couple of changes to suit our tastes. (jarred grapefruit segments and we added the lettuce and onions).
Place the mustard, lemon juice, salt, and pepper in a small bowl.
Slowly whisk in the olive oil.
.
Before serving, cut the avocados in 1/2, remove the seeds, and carefully peel off the skin.
Cut each half into 4 thick slices.
Toss the avocado slices in the vinaigrette to prevent them from turning brown.
Drain the jars of grapefruit, saving 1 cup of juice.
Place butter lettuce on platter.
Add avocado slices, grapefruit segments and slices of red onion.
Spoon the vinaigrette on top, sprinkle with salt and pepper, and serve.