Grape Tomatoes With Onion, Bacon and Sage
Zurie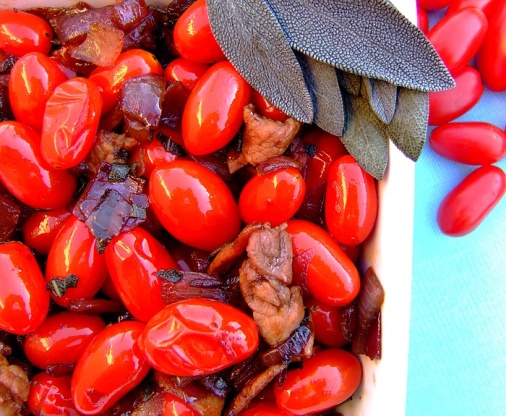 Once a year there comes a time when certain fresh produce is available in abundance. At the moment all kinds of tomatoes are seductive in their beauty and variety! I bought a bag of the small, sweet grape tomatoes and had to find a use for them other than in salads! This simple side dish is especially nice with a roast chicken rubbed with a hot sauce, with baby potatoes roasted alongside. Use lots of dried basil in this recipe if fresh sage is not available. Fresh basil is a little too sensitive to heat and lose its fragrance when heated.

This is a brilliant recipe for small tomatoes. I made half a batch using heirloom tomatoes, hence the golden colour. All I can say is oh yum, oh yum, oh yum! Thank goodness my cherry tomato plants are beginning to produce some fruit because I know how I'll be using them. Thanks so very much for posting.
1

onion, very large (or 2 onions)
3 1⁄2 ounces lean bacon, chopped (100g)

3

tablespoons oil (45 ml)

2

tablespoons balsamic vinegar (30 ml)

2

teaspoons brown sugar (10 ml)

2

cups grape tomatoes, red-ripe (small plum tomatoes, 500 ml, rinsed)

1

teaspoon flaked sea salt (5 ml Maldon Salt, or use more, to taste)

4

tablespoons fresh sage leaves, finely chopped (dried basil can also be used)
I used my wok to make this, on high heat.
Clean and chop the onion, heat the oil well, and add the onion bits. Stir and let fry.
Chop up the bacon and separate the pieces if necessary.
Fry the onion until it reduces and becomes a little transparent. Use a high heat, but do stir often to prevent burning. Then add the bacon pieces but don't let them stick together. Stir the whole lot a few times.
After 5 minutes at high heat the bacon will be cooked. Add the balsamic vinegar and sugar, and stir well.
Rinse the grape tomatoes and measure 2 generous cups (500 ml).
Add the tomatoes to the pan or wok, and stir. Add enough salt -- sea salt flakes are really the nicest.
Stir a few times until some of the tomatoes wrinkle and catch, then turn off the heat.
Add the chopped sage leaves (sage complements the bacon and is a flavour difference from the usual basil).
Stir through well. Pull off heat, and decant into a warmed serving dish.
If your main meat dish is not hot (chilli pepper hot), you could add coarse black pepper to this dish.
Leave in a warming oven for a while (or serve, depending on your family!).