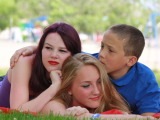 This salad can be served as a sandwich or as a salad. I've used it to stuff cucumbers with as well. It is always a crowd pleaser and incredibly easy to make.
Directions
Open and drain can of chicken, empty into 2 quart bowl and seperate chunks with a fork.
add grapes, celery, onion, water chestnuts, and sugar.
Next add mayo and dijon mustard and throughly mixed ingredients until evenly coated. Salt and Pepper to taste.
Most Helpful
Great salad. I like it a a sandwich best.
I don't know what went wrong but I followed the recipe to a t and it just was not edible. Thanks for posting anyways.
My family absolutely raved about this recipe. My adult daughter wanted to lick the bowl. Her two year old ate every bite of his. So I would say this is a dish for all ages. It was easy to make, healthy and versatile. We made sandwiches with ciabata bread. It is a little messy that way. We all agreed that next time (and there will be a next time) we will put it in pita bread. Thanks T-3 for another great recipe!