Kathy228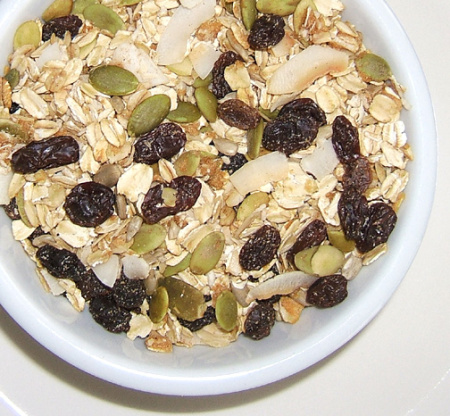 Here's my granola version using green, pumpkin seed kernels. Delicious with soy milk for breakfast or snack.

We made a half batch and used canola oil instead of coconut oil. We felt that it needed a little more flavor/sweetener for our liking. I believe this would be a great basic recipe to tweak. I may try it with adding some honey and a little more oil. I will also try it as cereal and see how it tastes and will update, if needed.
Preheat oven to 300 degrees and lightly grease bottom of pan.
Break-up the jaggery or brown sugar lumps.
In a large shallow pan combine all ingredients EXCEPT the coconut flakes and raisins.
Bake for about an hour stirring every 10-minutes.
Add the coconut flakes and continue baking.
When coconut is nicely browned, granola is done; remove pan from oven.
Add raisins and stir until combined. Taste to adjust salt, sugar and cinnamon.
When cool, store in a jar with a tight fitting lid.