Granola - Oats, Fruits & Nuts
CoffeeB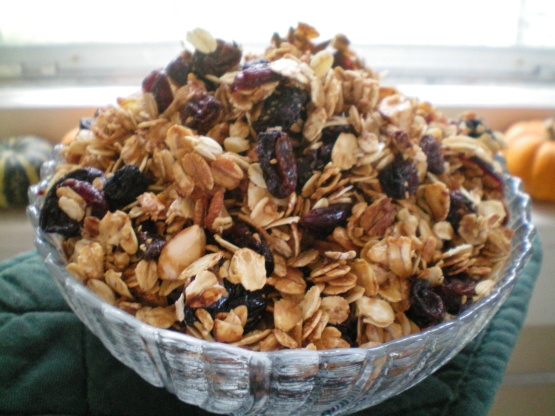 Very easy and yummy. Eat by the fistfuls or sprinkle on your cereal, yogurt or ice cream. Recipe can easily be doubled. Use any dried fruits or nuts that you like. UPDATE: 11/5/08 I added an extra 1 cup of oatmeal to the recipe to make the granola less sticky and easier to sprinkle on cereal. Either way you make it, you're in for a treat. YUM! **Please be careful with your baking time. It may take less than 20 minutes to toast. Watch carefully!

Whew! So glad I found this recipe again. I made it twice last year and forgot to review it and then couldn't find it. I love this! I am not a breakfast eater but I'm trying. I find this just a perfect blend. I use whatever dried fruit and nuts I have around and eat it either by the handful or in a bowl with fresh fruit. Totally yummy! Thanks so much for posting this.
Preheat oven to 350°.
Spray baking sheet with non-stick spray or use a silicon matt. The baking sheet must have sides or use a 9x12 pan.
Bake oats for 15 minutes. Remove from oven.
In a medium bowl, sprayed with nonstick cooking oil: combine Oats, nuts, fruits.
In glass measuring cup: combine honey, vanilla, butter and salt. Warm in microwave for 10 seconds. Stir.
Drizzle the honey mixture over the oat mixture, stirring constantly until well coated.
Return granola mixture to oven and bake an additional 20 minutes or until oats are lightly toasted & browned.
Cool granola completely. It will become crunchier as it cools.
Store in an airtight container for up to 2 weeks.