Rita1652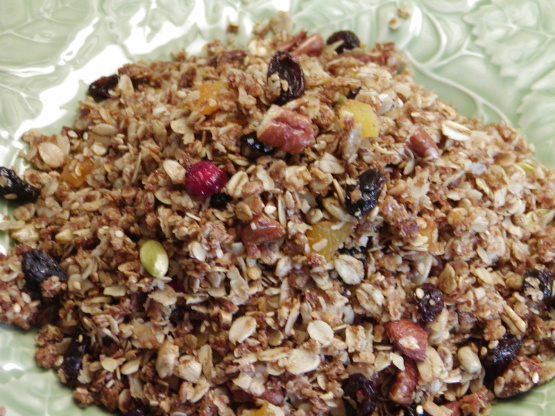 Here's a sweet, healthy, crunchie, snack that's yummy good.
Top Review by PaulaG
This was my morning snack mixed with yogurt. It is has a nice crunch. I really like this because it is easy to put together, it is lower in fat than alot of granola. I used the walnuts and cranberries. I was running low on wheat germ so I flipped the amounts of oat bran and wheat germ. Something I will do again.
Preheat oven to 300°F Grease 3 large baking sheets with rims.
In a microwave proof dish mix first 8 ingredients and cook 1 minute till sugar id dissolved. Take note to use more of the sugar and oil if you want a sweeter, stickier mix or less for a low calorie mix.
DO NOT boil.
Mix the remaining ingredients except the raisins, cranberries and apricots.
Pour syrup over the oat mixture.
Stir with a wooden spoon until syrup coats all ingredients.
Spread granola thinly and evenly on baking sheets and bake about 15-20 min, or until lightly browned.
Spoon into a large bowl, add dried fruit and mix thoroughly. Cool.
Store in a tightly covered container and keep in a cool dry place.
Enjoy without guilt!