Granola Ice Cream Squares
Bev I Am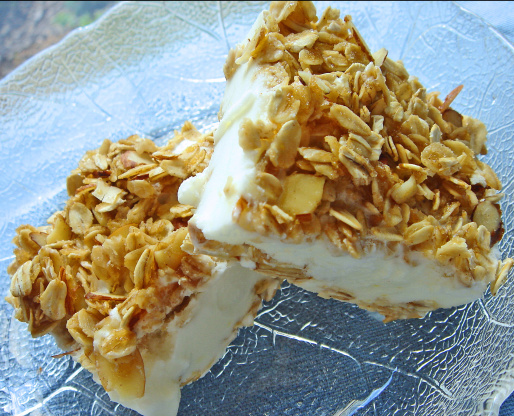 Here is a great way to serve granola for dessert or snack this summer! My personal suggestion is to use my Vanilla-Scented Granola! I recently made this using Lemon Sorbet for the filling with Blackberry Sauce and it was sensational! If you are unable to use all the squares at once, slice and wrap individually with plastic wrap and freeze for individual use! Be creative -- This is a very versatile recipe. Cooking time reflects freezer time. I hope you will enjoy this as much as I do! I discovered this recipe on Recipe Goldmine.

These are fabulous! So simple to put together and endlessly adaptable, I can imagine eating them forever! I cheated a bit and used prepared granola bars that I smashed up, along with low-fat ice cream and a little chocolate sauce. I made this easier to serve by lining the pan with foil and lifting the bars out before cutting. I am looking forward to trying other variations, along with possibly using a layer of sliced strawberries in place of the sauce. Thanks for posting this Bev! As ice cream is one of my favorite food groups, I foresee a lot of these in my future!
946.36

ml granola cereal

946.0

ml vanilla ice cream (or ice cream, sherbet or sorbet of choice)

59.14

ml caramel ice cream topping (or feel free to use a topping of your own selection) or 59.14 ml chocolate syrup (or feel free to use a topping of your own selection)
Sprinkle 2 cups of granola in ungreased 9x9" square baking pan.
Drizzle with ice cream topping.
Cut ice cream into about 1" slices.
Place on granola in pan.
Let stand until slightly softened.
Spread evenly.
Sprinkle with remaining granola.
Cover and freeze until firm, about 5 hours.
Cut into squares.
Serve with additional topping if desired.