Katzen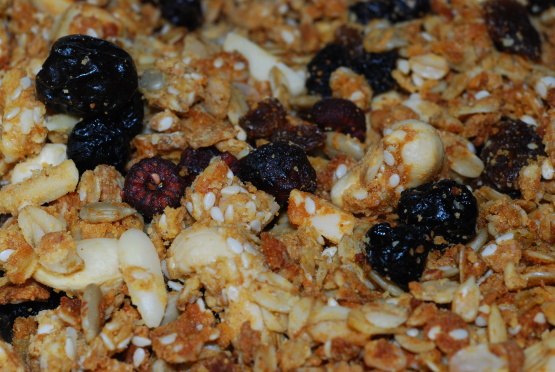 Years ago I used to make granola a lot, using it to munch on & as a topping for hot cereal. I sometimes substitute chopped dates for the raisins.

10 stars ! I didn't add the dry milk or soya flour because I couldn't find any, and I used whole almonds instead of slivered and also added some peanuts since I adore nuts. I toasted it all for a little longer because I like it darker toasted to produce a fantastic museli / granola. Everything works together very well and this is an excellent way to convince a non-breakfast eater that breakfast can actually be worthwhile. I might throw in some pumpkin seeds and dried cranberries next batch too. It makes a LOT, perfect because it's so easy and tasty. Even better.. when the rest of the family went for icecream for dessert I had a small bowl of this, and was completey happy and not missing the sweet stuff. It should stave off the dreaded late evening munchies very well indeed too. Please see my Rating System: 5 excellent stars for a fantastic recipe that can be easily adapted (more nuts, more bran, dried fruit etc) to suit everyones tastes, healthy, economical and is a simply delicious way to start the day. Definiately a recipe that I will be making regularly. Thanks!
Preheat oven to 250 degrees F.
In a large bowl, mix together the first 11 ingredients [the dry ones].
In a small bowl, mix the oil, honey & vanilla, & add to the dry mix, folding it in with a wooden spoon.
Spread this mixture onto the bottom of a large roasting pan, & bake it, stirring occasionally, for 1 1/4 hours, or until light brown.
Cool the baked granola, stirring it several times, & when cooled, add the raisins.
Place in tight, glass containers.