Pamela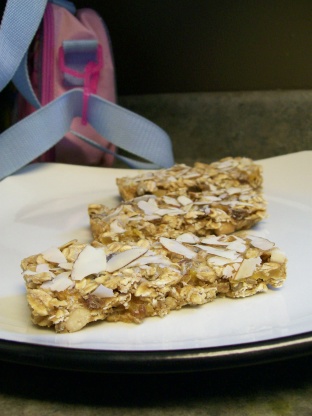 I liked them quite a bit, but I felt like they needed more fruit, like raisins, since I love raisins. Unfortunately, I realized that I am not a big fan of sunflower seeds.
Preheat oven to 350 degrees.
Toast oats and sunflower seeds on a cookie sheet at 350 degrees for 5-7 minutes until crispy.
In a large bowl, combine toasted oats and sunflower seeds with remaining ingredients except for sliced almonds.
Press mixture into an 8-inch greased baking dish.
Press almonds on top.
Bake at 350 degrees 15 minutes or until brown and done. Cool before cutting into bars.