Bev I Am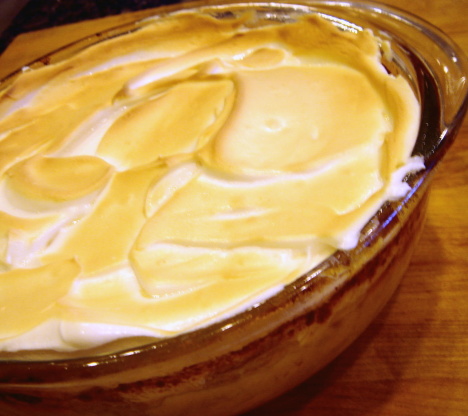 My granny's recipe. Brings back memories of my childhood!

This is a wonderful recipe for rice pudding! I had made some rice for supper and didn't use it, so looked for a rice pudding recipe using cooked rice. I'm so glad I discovered this one! This is different from the other rice pudding recipes I've tried in that this pudding is not custard-y. It is chocked full of rice and is quite sweet. The addition of the meringue just blew it over the top : ). I know from now on when I have left over rice exactly what I will do with it! I usually like raisins in my rice pudding, but since this recipe did not call for raisins, I did not put them in. I will give it a try with my next round of Granny's Rice Pudding. Thanks so much CookinMamaof2 for a wonderful old-fashioned recipe.
Preheat oven to 450.
Beat yolks of eggs. Add other ingredients except for egg whites. Mix well.
Pour into buttered casserole dish. Bake for 45 minutes.
Beat egg whites with sugar and vanilla until peaks form.
Add to baked pudding and brown under broiler.