Granny's Rhubarb Custard Pie
pammyowl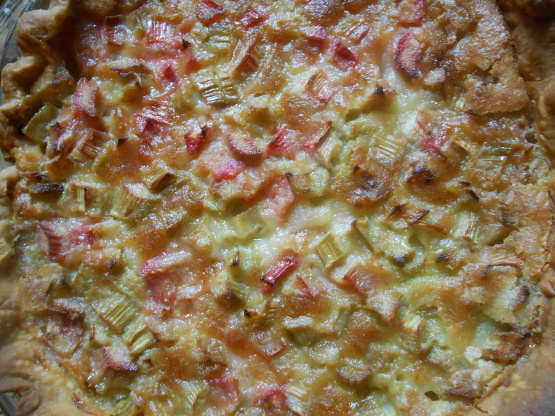 I am not a rhubarb fan usually, but I loveit in this pie! It was my grandma's recipe and it is very good. You'll be fighting over the last piece.

This pie had great flavor but took 1 hour and 20 minutes to bake, and the crust was really getting too brown, so I took it out and hoped for the best. The filling was still not set, and the crust was so overcooked it was impossible to get out of the pie plate. It may have been my oven, although I doubt it. I love this pie normally, it just didn't work for me, sorry! Made for Name That Ingredient tag game, 2013
Combine sugar and flour in mixing bowl.
Add eggs, sour cream, margarine, and rhubarb.
Pour into unbaked pie shell.
Bake at 375F for 1 hour.
Sprinkle cinnamon on top.