Ingy1171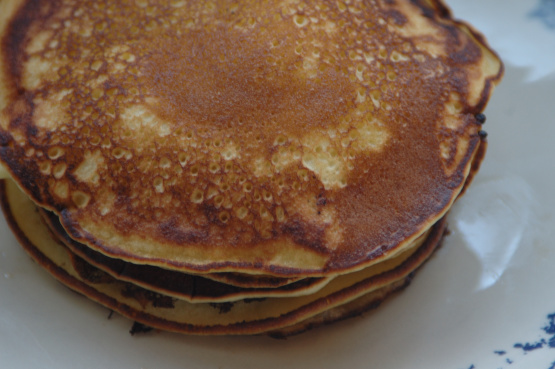 This is the way my Granny made pancakes. All the grandchildren had to have them when visiting. We sometimes have them for supper with good ole pan sausage!

These were excellent! I made them for my son and he loves them! One thing I did learn from a different recipe (that came to light while making these) is that letting the batter sit for about ten minutes while your pan heats up... its almost crucial when you have a soupier batter. I also did it a little different, I sifted all the dry stuff together and then i mixed all the wet stuff together in another bowl and poured that in while stirring. This caused a soupier mixture but after 10-15 minutes of cooking 1-3 pancakes at a time the batter started to thicken just from sitting out. And the pancakes were much fluffier after that (the first few came out almost flat). So now i have tweaked the recipe and these are perfect and delicious! I disagree with the only negative comment on the page, i tried one of these without any toppings and they were bland-ish. But when served with syrup as most people eat pancakes the flavor was delicious and you can taste the butter and flavor in the pancakes when accompanied by delicious syrup. These are GREAT! Thank you, from your famlies recipes to mine :D
Sift flour,baking powder, salt and sugar in a large bowl.
Mix in milk, egg, melted butter and vanilla until smooth.
Heat lightly oiled griddle over medium high heat.
Pour about 1/4 cup for each pancake.
Brown on both sides.
(I brush melted butter on each pancake as I add them to the stacks.).