Granny's Fruity Chicken Salad
Derf2440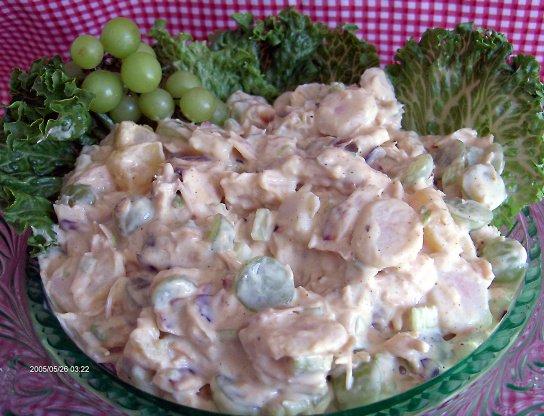 The latest contribution from Granny's recipe box. This is a refreshing meal on a summer afternoon. Needless to say, this is one of those that gets better in the refrigerator!

This is an outstanding salad!! The only change I made was to scale it to half, except I left the soy sauce at 1 tablespoon and the curry powder at 1 teaspoon. I used Light Miracle Whip and light soy sauce. (A little less mayo than called for) It was delicious, the sweetness of the pineapple and the tartness of the green grapes complemented each other and what a wonderful crunch with the toasted almonds, celery and water chestnuts!! Can hardly wait to finish it off for lunch tomorrow. Thanks for sharing this lovely recipe, we will be enjoying it often this summer.(Love the touch of curry!!) — Jun 10, 2003, 2 members found this helpfulUPDATE: Made this super chicken salad again for supper tonight, I make it quite often during the hot days of summer, we love it! I only use a cup of the light mayo, though, it was again delicious!!
Combine all ingredients well.
Serve over lettuce.