loof751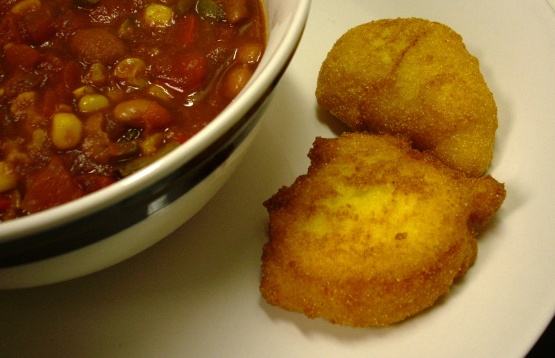 This is my Granny Ganus' recipe. Everyone loved Granny's cornbread! I remember as a child biting off one end and spooning out the dough, then filling it with peas and snaps then eating it...lol! It was the best! I love making these and my kids love eating them! The meal for this is labeled "extra fine" and I've found it at Winn Dixie and Walmart stores. It can be labeled as Hall's or others, but the texture is very close to that of flour. I have only been able to find it in the south. This is not a "healthy" type of cornbread. My granny used lard when making these but I use canola oil and it's still awesome! I also use an iron skillet just as she did and I use a "special" metal spoon that is just the right size to make these. I dip it into water before scooping up the mix and drop it into the hot oil. I get almost the same shape as Granny's! This can be deep fried as well.

This was a different and great cornbread recipe! I thought the texture might be like a hush puppy but it really wasn't - it was firm outside and light and moist inside. The dough seemed a little bland and I may add a some sugar next time. Despite my best efforts mine ended up a little oddly-shaped but that didnt affect the taste or texture. Thanks for posting this recipe! Made for Fall PAC 2008
Mix meal, salt and baking powder together. Add boiling water, stir well with a spoon, it will be very stiff (the boiling water will start the cooking process before you fry it). Add egg and milk stir until well mixed. Mix will be very sticky, so wet hands and shape into submarine shaped ovals and drop into hot oil (you must keep hands wet or batter will stick to hands). Brown on all sides and remove. Place on paper towels to drain off excess oil. Serve.