Food.com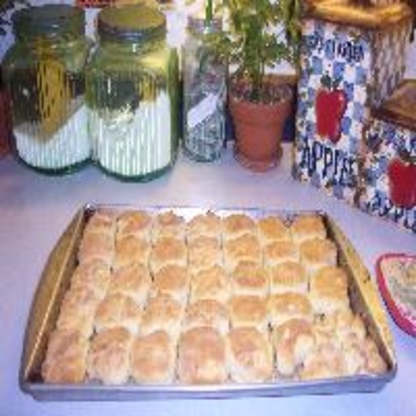 GRANNY'S BISQUITS. These are the bisquits my granny use to make(God rest her soul) I watched her make these so many times when I was a kid. I have never found a recipe that comes close to these. They are very moist and delicious.

For not being chock full of fat like all my other biscuit recipes, these were really good. I dredged mine in melted margarine instead of shortening and used "buttermilk" that I made with milk and lemon juice since I didn't have "real" buttermilk on hand. They were surprisingly flavorful and had a nice buttery crunch on the outside that reminded me of the crunch that pancakes and hush puppies get sometimes from being fried. I found them to be just a little too salty, but that may have been from using margarine instead of shortening. I will probably try them again with shortening soon. Thanks!
Mix flour and buttermilk together until mixture is stiff but not dry.
It will be sticky On floured surface turn dough out.
Add flour on top of dough and knead until dough is kind of dry but still sticky in the middle.
Pat dough out to about 1/2 in thick and cut with cutter.
In a cookie pan melt about 1/4 c butter flavored crisco (or reg. Crisco) in a 425 degree oven When melted remove from oven, tilt to cover pan.
Then, tilt pan so extra oil runs to one end.
Take each bisquit and dredge in the oil so that both sides of bisquits are coated.
Place bisquits close together in pan (touching).
Now bake at 425 degrees F until the tops are brown.
THESE ARE ABSOLUTELY,NO DOUBT ABOUT IT THE BEST, MOST DELICIOUS, MOIST, BISQUITS YOU HAVE EVER TASTED.
Hope you love these as much as we do.
Let me know how you like these.