Grannydragon's Peanut Butter Noodles
Prep 15 mins
Cook 10 mins
I really enjoy eating pasta and peanut butter separately. This combo really grabs me. I do use quinoa noodles and tamari sauce as they are gluten-free.
Directions
Cook pasta according to package directions.
Heat oil,in a sauce pan, add onion, garlic and cook 2 minutes on medium.
Add chicken broth, peanut butter, soy sauce (or tamari) vinegar, lemon juice, sugar (or brown sugar or honey, one or the other) and ginger. Turn heat to low, simmering 5 minutes, stirring often.
Put chicken in a large serving bowl. Add chopped green onions.
Drain Cooked pasta,well. Add to serving bowl. Pour peanut butter sauce atop, combine,
Garnish with chopped peanuts, when serving.
Reviews
Most Helpful
This is a great recipe to use as is or to build on. Made this tonight (as written with fettucine) and my two 4 yr old sons approve! I added a photo, didn't have any green onions though. A wonderful, easy-to-make and kid friendly meal!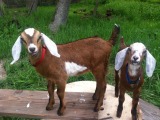 I've had this recipe printed and saved for some time now and finally made it last night. I have a very picky 7 year old who likes peanut butter and this was a great way to hide whole wheat pasta. I went light on the onion, finely, finely chopped (hidden) and only used .5 tbsp of vinegar concerened that it would be tart. I didn't have lemon juice, so I used lime and I added extra brown sugar. All three of us liked it, picky eatter, hubby and me! Thank you! By the way, I love the name "Grannydragon!"
This recipe has made it into a regular rotation in my family. I made it exactly as written, using egg noodles one time, quinoa noodles another, and spaghetti another. Don't skip the peanuts as garnish--it really makes this dish come together!! Thanks Grannydragon.