Granny Neel's Company Cornbread
BarbryT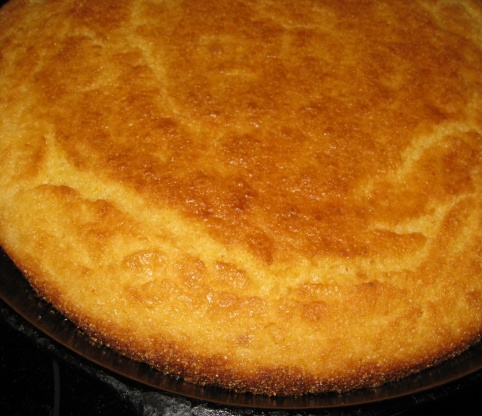 Granny Neal is my culinary hero. Her grandaughter and I have been friends for many years. Granny Neal was a caterer in a very rural part of SW Virginia. She has written several cookbooks which are the backbone of my collection. This cornbread is particularly good when prepared in a cast iron skillet but is also yummy when made in a standard baking pan. I like this recipe because I never have buttermilk in the house but I frequently have sour cream.

This was really good cornbread. I added a cup of cheese and 1/2 lb of crumbled breakfast sausage and made it a breakfast. I did reduce the oil to 3 Tbsp since it had the cheese and sausage I used milk for the rest of the amount of liquid. It is moist and delicious just what I have been looking for.
1

cup self-rising cornmeal

1

cup cream-style corn

1

cup sour cream (I use the low fat variety)

2

eggs
1⁄2 cup vegetable oil
shortening or non-stick cooking spray
Preheat oven to 425 degrees F (for cast iron skillet) or 350 degrees F for baking pan. Rub the inside of a 10" cast iron skillet with shortening (not butter) and place in oven as it pre-heats. If using a 9x9 baking pan, grease well with shortening or spray with pan spray and set aside.
Blend sour cream and eggs together with a fork until well mixed. Stir in oil and cream-style corn and gently combine. Add cornmeal and mix gently until there are no more lumps.
Carefully remove hot skillet from oven and pour mix in skillet. If using 9x9 pan, gently pour batter into pan and smooth with a spatula.
Place skillet or pan in oven and bake for approximately 25 minutes or until edges begin to brown and center develops small cracks. Remove from oven, cut into wedges or squares and serve hot with butter or apple butter.