Granny Mac's Mac and Cheese
diner524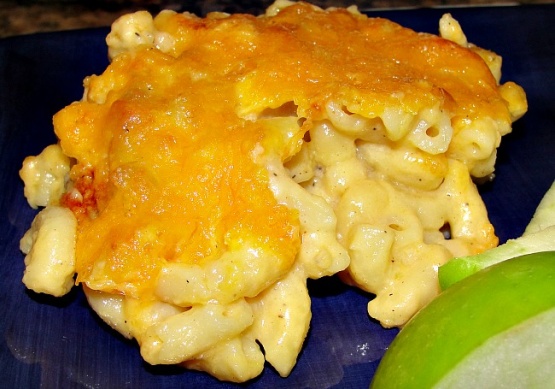 From Southern to the Core a beautfful cookbook I received in the 2011 Cookbook Swap fro, BusyMomof3, this reminds me of the cheese and mac I learnt in high school nearly 40 years ago from an American teacher the only difference was we used Australian cheddar as American cheese, the only addition I personally made was to add a sprinkle of paprika, unfortunately due to dietary restrictions it is no longer made. In the cooking time I have included cooking the pasta (this could vary a little on variety - I allowed 15 minutes which would I think be the maximum)

This is wonderful recipe. Incredibly easy with ingredients that most have handy. This is super Delish! I added a 15 oz can of drained whole kernel corn to the macaroni mixture. I also added a 1/3 of a cup of mild shredded cheddar cheese with the American cheese for the topping. If you like a little heat; I highly recommend drizzling a little Srirachi Hot Chili Sauce when plated. Yum!
Preheat oven to 325°F.
Cook macaroni in boiling saltged water until tender, drain and rincse.
Make white sauce of butter, flour, milk, salt and pepper (do this by blending these ingredients over a low heat ) - o'kay what I do - melt butter and add flour and cook off for a minute or two over low heat and then add warmed milk and whisk till smooth and let thicken over heat and then add 2/3 of the cheese into this mixture and stire until melted.
Pour the entire cobmination over the cooked macaroni in a greased baking dish and sprinkle with remaining cheese over the top and bake for 30 minutes.