Grandpa Rondina's Meatballs and Sauce
twissis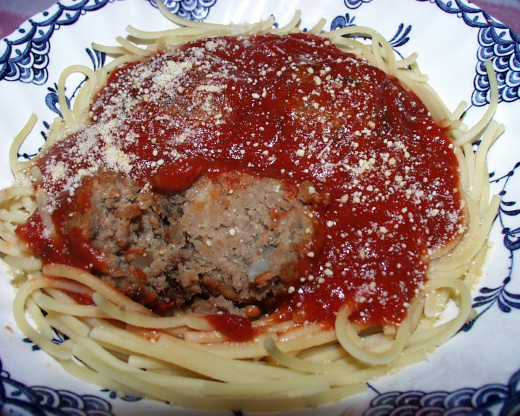 This was my huband's grandfather's recipe. It is always a big hit when I make this or share the recipe. Very easy to make just slow cooks all day. Please don't the long list scare you this is very easy and well worth the wait. I am posting the original recipe.

I got 20 meatballs from this meat mix, so this was 2 meals for 2 of us ... 1 I made to reflect the recipe w/spaghetti & another for meatball subs which we enjoyed heavily doused w/powdered variety Parmesan. I made the meatballs hastily & then realized I had no grd meat left for the sauce, so I omitted it from the sauce & added some beef bouillon granules to flavor it. The meat mix seemed dry, so I used the full amt of milk ... but they were then rather fragile & loose, so I admit to sauteing them a bit b4 adding to the sauce & was glad I did. Next time I will reduce the milk amt to 1/3 cup or maybe even add an egg to help bind the meatballs. They had a great flavor w/the use of the Parmesan, but did need a greater amt of salt than I expected (clearly a pers pref since DH did not agree). The sauce was richly flavored & I will just add some mushrooms for our next effort. Pls see my rating system - a very worthy 4*. Thx for sharing this recipe w/us.
To prepare sauce, heat olive oil; add in garlic and brown the ground beef.
Once beef is cooked through add all additional ingredients for the sauce.
Simmer on low heat for at least one hour before adding meatballs.
to prepare meatballs: Just mix all ingredients in large bowl until well blended.
Shape into golf ball sized balls, you can stick them in the fridge until ready to add to the sauce.
Once the sauce has simmered for atleast one hour drop the meatballs in carefully. They must simmer in the sauce (over low heat) for atleast 3 hours. This makes a wonderful tasting sauce.
Serve over your favorite spaghetti noodle.