Grandpa Farrell's Scrambled Eggs
diner524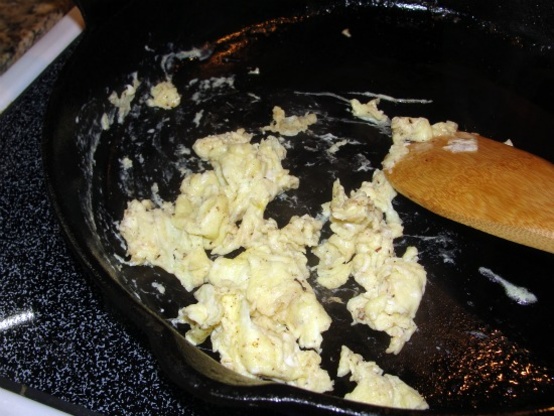 From my ex husband's grandfather. Boys, this is where the eggs I cooked came from. He was a cook somewhere and they showed him this method. The eggs are very soft and perfect. Don't overcrowd the cast iron pan with eggs. It's time consuming, but worth it if you don't have too many.
This is the way my mother sometimes made here eggs, both fried or scrambled, but she didn't have a cast iron pan. I made this as written, using a cast iron pan, and love the added flavor that the bacon grease brings to the eggs. I fried the bacon, and while egg was cooking, I toasted an english muffin, added a slice of cheese to it and then topped it with the egg and bacon slices for a great morning sandwich!!! Thanks for sharing the recipe and congrats on your win in the 12 Days of Christmas Surprise Event.
Fry the bacon in the cast iron pan.
Beat up the eggs while cooking the bacon.
Take the bacon out and pour off most of the grease.
Dump the eggs into hot pan and stir off heat till done.