Grandpa Elmer's Hamburgers
Prep 20 mins
Cook 10 mins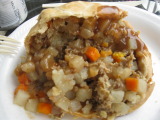 My dad made the BEST hamburger's!
3 lbs ground chuck
1 medium onion, coarsely chopped
1 egg
1 1⁄2 teaspoons season salt (I prefer LAWRY's)
Directions
Good Ground chuck works best -- you want a little fat in your ground beef or it'll be dry & tasteless. 80/20 is a good ratio.
Mix all the ingredients, well.
Form into 1/4 lb. patties.
Place on a preheated grill or hot fry pan (cast iron works the best).
Cook on both sides, until desired doneness (DO NOT COVER!).
Top with a slice of good Wisconsin cheese, such as Med. Cheddar or Colby.
Place on toasted buns or between 2 slices of bread.
Use your favorite toppings.
One of our favorites is topping with a slice of cheese & a fried egg.
ENJOY!
Most Helpful
R u my sis?
Same recipe that I grew up loving from my mom!
Haven't found one better, and I'm a self proclaimed burger connoisseur or how ever ya spell er', lol

These were really good burgers!! I only used 1/2 pound of ground beef. I put one egg in it and added more onions. I put some shredded cheddar cheese on the burger and put a lid on the pan and cooked it until the cheese melted. It was really good that way. The burger was nice and most and tasty. I had your Recipe #305705 with my burger. It was a great combination and make for a great meal. I will be making these again Thank you for sharing your recipe. Made for PAC Fall '08.