Grandmother's Chili Sauce
Suzie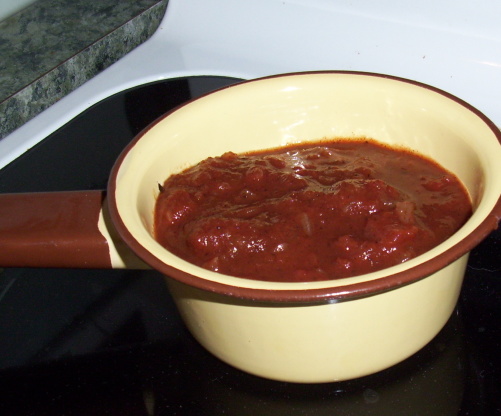 Pamela R. says this is an old family recipe passed down from her southern grandmother. It is a traditional old south condiment served with all kinds of meat (especially great on top of meatloaf). A good homemade chili sauce has chunks of tomatoes and a rich burgundy color.This is a medium spice level, but you can add more or leave out entirely. Traditionally it's used with fresh tomatoes, but the recipe was converted to use canned tomatoes years ago. You can store this in the refrigerator for several weeks. I found this very quick and easy to make and the flavors are outstanding. Serving size is estimated. YUM!

Top Review by Suzie
Bottom line...this is one awesome chili sauce. So incredibly easy to make in no time at all, and the aroma is enough to knock your socks off. I let DH make it because he was bugging the heck out of me. He followed the recipe to the letter and found it a tad sweet for our taste, but not by much. Also, with the 2 teaspoons of cayenne pepper, it does have quite a kick. Next time we'll only use one. This is definitely a keeper. Made for New Kids on the Block Tag. Thanks for posting/sharing your recipe, AmyZoe.
Mix all dry ingredients in a large saucepan.
Add the vinegar; tomatoes, and onions; mix well.
Bring to a boil over medium heat.
Continue to cook, uncovered until it is reduced by half.
Cool.
Cover tightly and store in the refrigerator.