CIndytc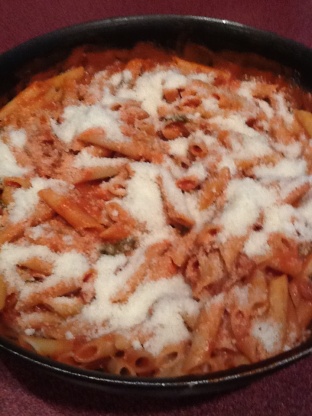 This is a quick and easy sauce. Hope you enjoy!

Made this Vodka Sauce to put over Lobster Ravoilli. Turned out great my husband loved it. The only thing I did different was I used a shalotte and 1/2 of a sweet onion, and Italian sweet cream, (what I had on hand) I also used an Immersion blender at the end to make it nice and smooth. I'm Itlalian and make sauce all the time and this one was so fast and easy that I know I will be making it often. Thanks for sharing your Grandma's recipe.
Put tomatoes in saucepan on medium light.
In separate frying pan, coat with olive oil(once around the pan) and fry garlic until it just starts to sizzle, add to tomatoes and stir.
Do the same with the onion until the onion is tender(add more oil as needed but not too much)add to tomatoes and stir.
Add Basil, prosciutto and vodka to tomatoes. Stir and bring to a boil. Stir frequently when boiling and taste sauce at 5 minute intervals to judge when vodka is reduced down, about 20 minutes.
When vodka is sufficiently reduced, remove from heat and stir in cream and cheese.
Serve with your favorite pasta and enjoy!