Grandma's Special Brussels Sprouts (You Won't Say Eeeewww)
loof751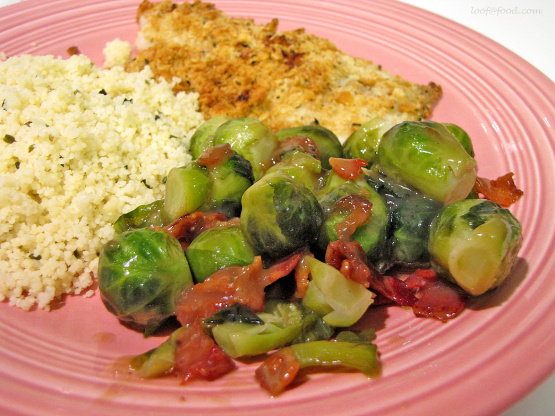 This recipe is from my Grandma Burk who sugar coated veggies so that we kids would eat them. I loved these growing up and I love them now. A special (kinda) sweet sauce with bacon makes those sprouts sublime.

This was a great way of preparing Brussels sprouts. The bacon was a great addition to the sauce, but the vinegar was too overpowering. Next time, I'll definitely reduce that, or maybe even leave it out altogether because the vinegar didn't mesh well with the salty elements from the bacon. But otherwise, the sauce made the Brussels sprouts much more enjoyable. Made for Football Pool 2013.
Clean and drain brussel sprouts.
Put them in a large saucepan with water to cover.
Bring to a boil and cook until tender but not falling apart.
Meanwhile, fry bacon until crisp, remove from heat, cool and cut into bite-size pieces,
Drain most of the bacon fat (reserve 1 T in skillet) return bacon to skillet.
Mix sugar and flour in a small bowl; add to skillet. Heat should be on low.
Add vinegar and water.
Stir while cooking, until thickened.
Drain brussel sprouts.
Put in serving dish.
Pour sauce over sprouts.