Grandma's Sourdough Pancakes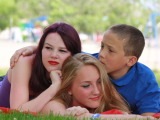 My Grandma had to drop out of school in the eighth grade to cook for the farm hands on her father's farm. She was taught old school style and the lady could throw down! These pancakes are one of her special recipes! Enjoy
Directions
1. Night before: Mix flour, milk, salt, and starter in large bowl. Cover and let stand over night! (Be sure to set aside 1 cup as future starter).
2. In morning: Add Soda, eggs, sugar, oil or butter. Mix until lumps are gone.
3. Cook on heated skillet until cakes are golden brown. Serve with favorite syrup (Grandma's choke cherry syrup is the best!).
Starter: Soften yeast in warm water.
Stir in Flour, water, and sugar. Beat until smooth.
cover and let it stand at room temperature until mixture is bubbly. During this time stir 2-3 times daily. Refrigerate or freeze.
IMPORTANT GRANDMA TIP:
DO NOT WASH STARTER CONTAINER! SOURDOUGH, GOOD SOURDOUGH, DEPENDS ON THIS!
Most Helpful
I have followed this recipe many times. These are the best pancakes I've ever had, hands down.
Very delicious. I wouldn't have changed a thing!
This recipe was truly scrumptious. My husband kept groaning in delight in between bites. I substituted a can of evaporated milk because we had no milk in the fridge and I used my own aged San Fran sour dough starter. Thanks so much to you and Gran...this one will become a regular in our kitchen!