Grandma's Rainy Day Kimchi Noodle Soup
yobodish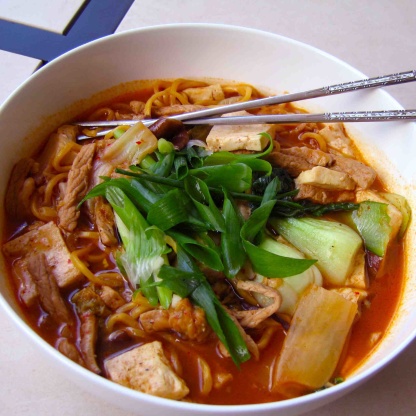 This is a variation of another dish my grandmother made when she stayed with us. Don't let the number of ingredients freak you out. They're mostly seasoning and spices and not a lot of chopping, mincing, or dicing. Bok choy and shitake mushrooms are two of my favorite vegetables and I added these two items to the recipe. I also switched out the anchovies broth for water and added dashida, which is a soup stock that comes in anchovy, clam or beef flavors. I use beef dashida.

When I saw this picture just knew I had to try this recipe. Followed the recipe exactly except no mushrooms as I forgot to buy them, wish I had as I know it'd be even better. We did use flat rice noodles instead of egg and really liked that. We even used the sriracha sauce and it was wonderful, but you are right it's VERY hot. DH has been asking for something like this for a long time and now I've done it. This was perfect for a cold, chilly day and reheated perfect for the next day too.
16

ounces of fresh Chinese egg noodles (Lo mein noodles)

3

tablespoons vegetable oil

6

garlic cloves, minced

8

ounces pork tenderloin, thinly sliced

2

teaspoons rice wine vinegar

6 -8

cups water

3

tablespoons soy sauce

2

tablespoons dashida, powder (Beef flavored soup stock)

2

teaspoons ginger, grated

2

cups cabbage kimchi, chopped in big pieces

4

ounces shiitake mushrooms, thinly sliced

7

ounces firm tofu, cut into 1-inch squares

4

baby bok choy, quartered

2

scallions, thinly sliced

2

teaspoons dark sesame oil
salt and pepper (Add a little salt and pepper at a time and taste as you go. The kimchi and soy sauce may be enough s)
sriracha sauce (Optional but highly recommended.)
In a large pot add vegetable oil and garlic and sauté until soft. Add pork and cook until it is slightly browned. Season with salt, pepper and rice wine vinegar and stir for 2 minutes. Add kimchi and sauté for 3 minutes.
Add the water, soy sauce, dashida, and ginger. Stir and simmer on low heat for about 15 minutes. Add the mushrooms and tofu and turn up the heat to medium. Cook for 3 minutes.
Carefully add the egg noodles, bok choy and just enough water to cover all of the ingredients. Stir gently and scrape the bottom of the pot to make sure the noodles are not sticking. Season with salt and pepper. Simmer for 3 minutes.
Putting It All Together.
Equally divide the soup in four large bowls. Drizzle the sesame seed oil and top with scallions. For that extra kick and flavor, add sriracha sauce (For those who can handle the heat).