CindiJ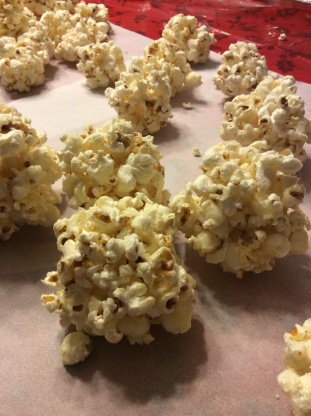 My Grandma made the BEST popcorn balls every year for Halloween. Everybody wanted her recipe and lucky me - I got it 30 years before she passed away. Now that I am a Grandma of 3, I look forward to making these for my grand children.

I just wanted to say thanks to you (and your talented grandma, especially) for this terrific recipe. I managed to get 13 popcorn balls out of it for our Halloween Party tonight, and they were a HIT. I have never made popcorn balls before in my life and happened upon this site via a random google search. I'm so glad that I did! I discovered that if you let the sugar mixture boil long and hot enough, they turn out nice and crackly like candy. We neatly folded them in squares of wax paper and tied the popcorn ball "packets" closed with natural twine. At our party they were served from an apple basket on the table and the whole thing looked so "autumn" and festive. Thanks again for sharing your family recipe and making our Halloween party so extra-fun!!
In large pot mix well the sugar, Kayro syrup, vinegar and bring to boil. Continue until mixture reaches the Hard Crack Stage on candy thermometer.
Remove from heat and quickly stir in popped popcorn. Butter your hands and scoop enough coated mixture to form baseball sized balls.
You have to work quickly as the coating will harden very fast. When cooled, wrap in wax paper, twisting to close.
Preparation and cooking time does not include time to pop popcorn.
Cooking time varies with weather conditions.