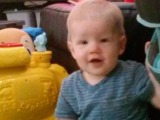 This is my all time favorite dish, that my Grandmother served in her restaurant. She would serve this with real mashed potatoes and creamed corn.
Directions
Mix everything together very well and shape into 2 loaves.
You can either pour the tomato juice or ketchup on top before baking, or apply the sauce to the top of the meat loaf 10 minutes before it is done.
Bake at 350 degrees for about 45 minutes to 1 hour or until done.
Makes 2 loaves.
Most Helpful
My search is over for the perfect easy meatloaf. Excellent flavor.. I think the Worcestershire really does the trick. I used red onion for the grated onion, which I grated on the finest grating blade. I only had 1 cup of breadcrumbs, so I used cracker crumbs for the remaining cup. This makes 2 meatloaves, about 8 slices each loaf.

I've been forgetting to review this. I first made it back in October and we've had it several times since then. It is SOOOOOO good. I make it with 2.5 pounds of ground turkey, a sleeve of crushed saltine crackers, and a least 5 T worcestershire. I cook it for 45 minutes, put the ketchup on and cook it another 30 minutes. The comment box is over the instructions, so I can't see how many loaves it says to make. I make two and place them at either end of a 9x13 dish. Thank you for this great recipe!

I made this on 10/14/07,and since it was just me(I only get meatloaf when SO isn't home)I cut this recipe in half.Even as I was mixing this,I thought that there was way too much breadcrumbs.And after tasting the finished product,I was right.If I do make this again I'm going to use just a 1/2 cup of crumbs,and maybe add some garlic powder.Thank you for posting,and "Keep Smiling:)"