Parsley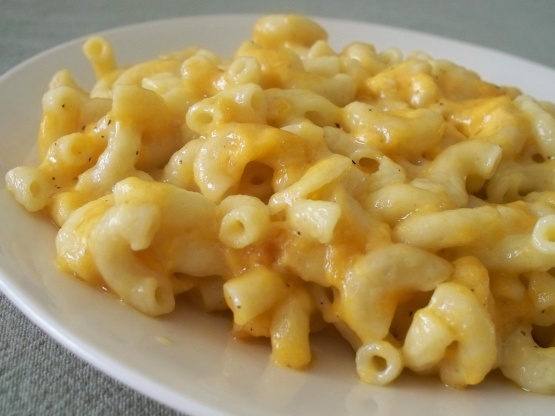 This one was a constant favorite at my grandmother's Sunday lunches. Today all my friends and family still request this simple yet delicious baked macaroni and cheese recipe

I'm torn as to how to rate this recipe; it turned out well, but required a lot of work to save it. Following instructions exactly as they were written, I was headed toward the same problem as the reviewer who said it had too much liquid. A cup of milk was way too much with only 8 oz. of pasta and 2 cups of cheese, and because the milk sits in the bottom of the dish while everything it needs to mix with sits well above it, it just wasn't going to work out. I checked on it after 10 minutes in the oven and sure enough, the cheese was melting on top of the noodles while the milk was sitting in the bottom of the dish, untouched. I stirred it all together and added more than an additional 2 cups of cheese to make it work; I also had to give it an extra 15 minutes in the oven. The end result was reeeally good and it'll become a staple around here, but going forward, I'll just use 1/3 cup of milk.
Preheat oven to 350.
In a 1.5 quart baking dish put half of the macaroni in bottom of dish, followed by half the milk and half the butter. Season with salt and pepper. Cover with half the cheese.
Repeat above direction for a second layer.
Bake uncovered for 30 min or until cheese is thoroughly melted.