2Bleu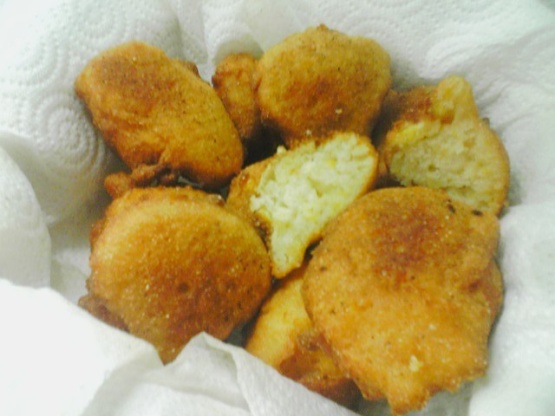 My grandparent's used to have a Fish Fry at their house about once a month. Grandma always put the hush puppy batter together while grandpa sat on the back porch and fried them with the fish in his big frying cooker. You just can't have a Fish Fry without these wonderful hush puppies. This recipe makes about 15-20 hush puppies.

I cannot begin to tell you how wonderful these hushpuppies are!!! Better than any I've ever had, and my boyfriend said they were the best ones he's had in his lifetime. When I told him the recipe called for creamed corn, he made a funny face. But I told him "Trust me on this one." I used my deep fryer, and used Crisco's frying oil. Perfect!! Definitely making these again, and will never buy store-bought ones again.
Pour vegetable oil into the fryer of your choice. Allow it to be getting hot while mixing.
Mix the first five ingredients together in a large bowl.
Add the last four ingredients and mix well.
If the batter isn't the consistency of pancake batter, add a little more flour to thicken or a little more milk for thinning.
Take a metal spoon and dip into the hot grease. This allows the batter to just slide off into the grease after putting on spoon.
Now, take about 1 tbs. size spoonfuls and place into grease.
Allow to cook for about 5 minute or until golden brown and turn.
Let cook on other side for about 3 more minute.
Remove from grease and drain on paper towel lined plate.
Enjoy with fried fish and cole slaw.