lazyme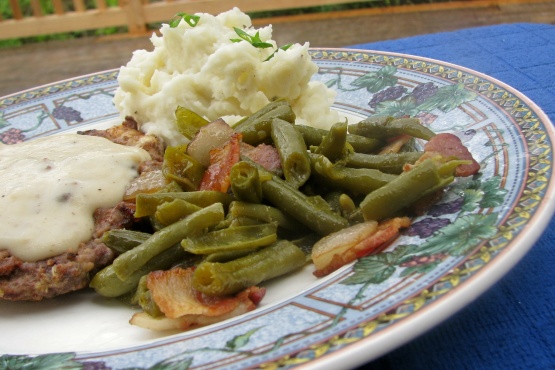 My beloved and very much missed Grandmother was always asked to bring these to family gatherings.. The woman knew how to cook, raising 8 kids, 6 of them being girls, I think it's fair to say- she had a PHD.. ;).. I only wish I had more of her recipes to share..
Fry bacon til' it's crisp, on the stovetop. Add onion, cook until tender.
Drain "all" liquid off of canned green beans.
Add beans to bacon and onion mixture.
Add bullion cube and water.
Cook very slowly until beans "shrivel".
Sometimes, ok well maybe always I have this compulsive need to add things to whatever I am cooking, and 98% of the time you can beat it's gonna be GARLIC or SPICES. Soo- there ya' go. Add in some garlic if you dare, or maybe some seasoning salt? :) But whatever you do- ENJOY!