Yia Yia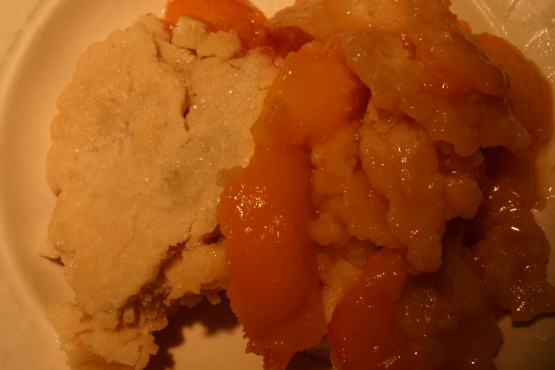 If there were one recipe that I could not live without, this would be it. It's my favorite cobbler recipe that's older than dirt. I suggest using plums, but peaches work just a well.

Well, in fairness I have to say I'm not much of a baker. That said, I did follow the recipe very carefully, but the crust was difficult to roll, even after chilling for a bit. It didn't brown as I expected and as the recipe stated. Even wth that, it was tasty and we enjoyed it this evening.
Crust

2 1⁄2 cups flour
3⁄4 cup Crisco
1⁄2 teaspoon salt

Glaze

1⁄2 cup butter

1

cup sugar

Filling

2

cups fruit (of your choice)
Work flour and Crisco in a millie dough.
Add cold water a little at a time until you get firm dough.
Roll into a ball.
Cut in half and roll out on a floured surface.
Line the bottom of a baking pan, 9 X 13 inches.
Add fruit then roll out second half of dough and put on top.
Pinch to seal sides.
Cut up butter and sprinkle on top.
Add sugar.
Bake at 350-375 for 30 minutes or until golden brown.