Grandma's Frozen Fruit Cups
2Bleu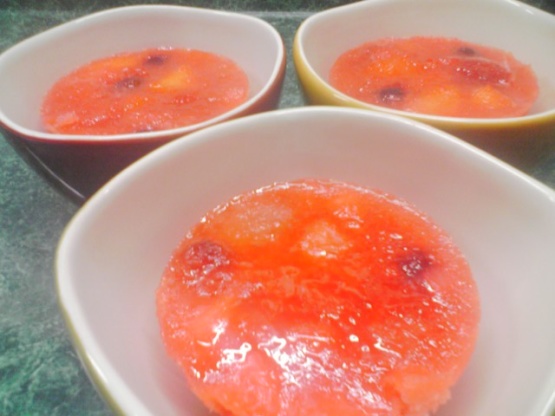 My grandma passed away quite awhile ago, but this is one thing that really reminds me of her. She would make tons of it and freeze it to have enough all year long. We usually just used old yogurt cups and other random plastic containers with lids to make these in.
Boil water and sugar until slightly thickened; cool slightly.
Add concentrate, water, lemon juice, and pineapple. Add fruit until juice is thick with fruit. Can be fresh or frozen strawberries, blueberries, grapes, peaches, bananas, raspberries, kiwi, etc. (We usually do strawberries, grapes, bananas, and blueberries) Put in individual cups and freeze.(containers with lids will keep longer.).
**Serving size depends on the size of containers you freeze this in! 24 is just a random guess, it makes a lot though! The 5 hours freeze time is probably about a minimum**.