diner524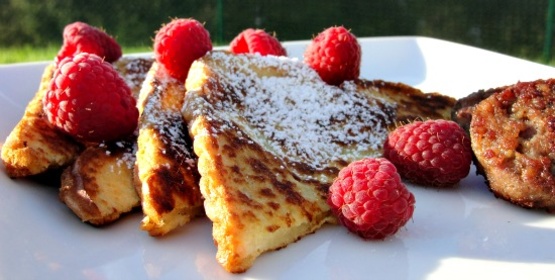 This is how my family makes French toast. This was from my Grandma; she learned it from the place she worked at. You can use regular white bread or cut French bread on the diagonal about 1/2 inch thick. The day old bread at WalMart works great. I am going to bow to the pressure of adding milk to this. My family likes it without but if your family likes it with you can certainly add it.
4

eggs
1⁄8 teaspoon nutmeg
1⁄8 teaspoon vanilla

1

teaspoon sugar
1⁄4 teaspoon salt

3

tablespoons milk (optional)
Pam cooking spray, butter flavored

8

slices bread
Mix eggs, nutmeg, vanilla, sugar, salt, and milk if using, together.
Spray Pam, or butter, a skillet.
Dip bread into egg mixture quickly to coat so it does not absorb too much egg.
Put on skillet and cook until lightly brown; flip.
Brown on other side.